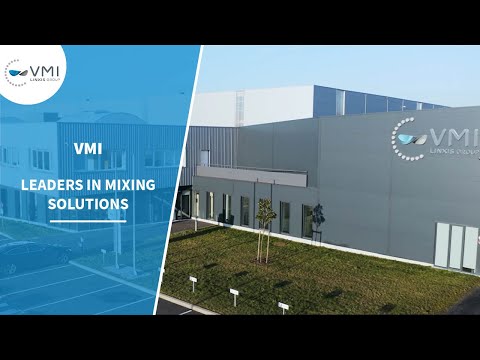 The Expert in Industrial Mixing Processes
For over than 60 years, VMI has been the worldwide specialist in mixing processes for the health, chemical and agri-food industries. VMI offers global mixing solutions, meeting laboratory requirements as well as the challenges of industrial production facilities. Whether to liquids and pasty mixtures of different viscosity degrees, this know-how applies to both simple suspension as well as to perfect homogenization, mass transfers, dilutions, emulsification, overrun or intensive blending.
VMI has supported the cosmetics, pharmaceutical, chemical and food industries in France and worldwide, relying on a distribution network and local agents specially trained to master its equipment. VMI designs and manufactures from a single production site based on the France's west coast (30 min from Nantes) a complete range of mixing equipment, from laboratory formulation to large-scale industrial production: bench-top mixers, vacuum homogenizers, pilot mixers, production platforms, or customized automated solutions for integration in clean rooms…
A Subsidiary of the Linxis Group: International Synergy
LINXIS Group brings together companies that are leaders on their markets, which design and manufacture equipment and turnkey solutions for production in the health, chemical and food industries. The collective expertise of the subsidiaries makes it possible to develop and implement smart solutions that benefit the competitiveness of their customers. The group's 5 companies, including VMI, are based in Europe, Canada and the United States and employ more than 990 people.

Our Support
Innovation and Development
VMI is committed to integrating the permanent evolution of scientific research and innovative technologies. We work closely with several universities and industrial partners at the forefront of their respective specialties (rheology, digital modelling, process engineering, etc.). Our Process Development Center enables us to conduct experimental trials, process tuning and formulation development to meet the requirements of the cosmetics and pharmaceutical industries.
Assistance and Process Optimization
VMI opens the doors of its Process Development Center to its customers and partners. There are 700 m² dedicated to testing with a wide range of equipment in place and an analysis room at disposal. A team of certified and experienced technologists has the mission to assist you in the optimization of your processes and the quality of your productions, from the definition of the formulation to the final product. Scaling up formulations to an industrial scale, improving traceability and cleaning in place, optimizing production times: these are many objectives for which mixing processes are always key elements.
This exchange of skills will enable your teams to achieve a better knowledge and control of mixing parameters, so that they can manage and improve your process autonomously and in complete safety.

Project Engineering
VMI guarantees efficient project management and a single contact person in charge of supervising the study, design and construction of the mixing unit. These operations integrate your requirements in terms of quality, costs, deadlines and safety.
VMI is in a position to meet your constraints as a cosmetics-pharmaceutical manufacturer:
PID
Functional analysis
Qualifications
PLC and steering
Cleaning and Sterilization In Place
All the control phases during the production cycle are carried out with constant attention in order to prepare IQ/OQ tests with complete documentation. All industrial equipment is fully assembled and tested in our workshops (FAT) before disassembly and shipment to its destination where our field teams will ensure installation.


Support and Services
In addition to its technical support, VMI has developed complementary services to help you operate, evolve and sustain your investments in equipment and systems :
Technical assistance, preventive maintenance
Audit and line expert assessment
Training sessions for maintenance teams, line supervisors and production teams. VMI is an approved training centre.
Successful Formulations Scale-Up from Laboratory to Production: VMI's Expertise
Developing a new cosmetic product must be achieved over increasingly shorter times, for shorter and shorter time-to-market, in response to consumer demand for ever more diversified, personalized and efficient products.
For each new development or new formulation of cosmetic products, the transition from the laboratory to industrial production is an essential step. Industrial transposition must integrate process parameters as early on as possible. The choice of these parameters, which partly depend on the mixer chosen, must be made very early on, from the formulation. In the laboratory, it is not only a question of achieving the desired finished product, but also of being able to commit to its performance on an industrial scale.
A good understanding of the different parameters involved is essential for successful industrial transposition. VMI has designed its range of equipment to facilitate the scaling up from laboratory scale to industrial scale, with mixers, from the bench to the pilot and up to production platforms.